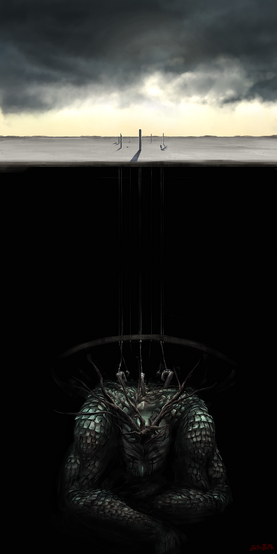 "

AND THEN KESHPETH LED HIS ARMY OF TEN THOUSAND INTO THE REALM BEYOND THE CLOUDS, AND THERE DID THEY DO BATTLE WITH THE DEVOURER, MAY HIS NAME REMAIN FOREVER UNREMEMBERED. AND THEN KESHPETH AND HIS TEN THOUSAND DID CRAFT SEVEN CUNNING CHAINS OUT OF THE BONES OF JASPETAR, SEVENTH BRIDE OF THE DREAD DEVOURER, MAY HIS NAME REMAIN FOREVER UNREMEMBERED, AND BOUND HIM WITHIN THE PEARL OF THE FATHER OF OYSTERS, HE WHO DWELLS UNDER THE MIRROR OF SALT IN THE REALM UNDER THE SEA. AND KESHPETH ORDERED THAT THE GATES TO THE FAR COUNTRY BE SEALED FOREVER, LEST THE DREAD DEVOURER, MAY HIS NAME REMAIN FOREVER UNREMEMBERED, FIND ITS WAY BACK TO OUR WORLD.

— Erikesh Codex, 1894 BC

"
Summary
SCP-2317 is an Apollyon-class object, and is known to be an unavoidable cause of one if not many XK-Class Scenarios (world-ending events). It is, in short, an enormous entity of another universe bound to ours via a dimensional portal opened in the 19th century. Ever since, every chain restraining the being has been broken by some corresponding event in our universe. Six of the seven total chains restraining SCP-2317 have been broken. The final chain is projected to be broken within the next thirty years.
In the event of its escape, the SCP Foundation has made plans to escape the planet or in some other way preserve the safety of mankind after the inevitable destruction of Earth.
Powers and Stats
Tier: At least 5-B, probably far higher
Name: SCP-2317, "Devourer of Worlds"
Origin: SCP Foundation
Gender: Unknown
Age: Unknown
Classification: Apollyon-Class Entity
Powers and Abilities: Superhuman Physical Characteristics, Resistance to Sealing, Possibly Telepathy or Probability Manipulation (Based on its link to our universe, two possibilities exist; it must either, A., somehow be able to detect catastrophe in our world, or B., cause it), Destruction
Attack Potency: At least Planet level (Stated to be capable of causing multiple XK-Class Scenarios simply by entering our universe, flat-out stated to be able and undeniably was going to destroy Earth), probably far higher (Suggested to be able to impact the universe on a much larger scale)
Speed: Massively Hypersonic+ (Its body fills up a 100 km^3 area when hunched over in a ball; its estimated height is 200 km; for reference, Mount Everest isn't even 9 km. It is 120,846 times larger than the average human, and would therefore travel roughly the same amount of times faster, leaving it squarely at Mach 2220)
Lifting Strength: At least Class P+ (SCP-2317's sheer size puts him in this level of physical strength)
Striking Strength: Class XJ
Durability: Unknown (It has no durability feats as of this time), at least Large Island level (By right of sheer size; no known weapon can even vaguely harm it)
Stamina: Unknown
Range: Hundreds of kilometers by sheer size, planetary otherwise
Standard Equipment: None
Intelligence: Unknown
Weaknesses: Can be bound again only by the sinews of other Devourer entities (however it is unknown how mankind discovered the original sinews in the first place)
Others
Notable Victories:
Notable Losses:
Inconclusive Matches: