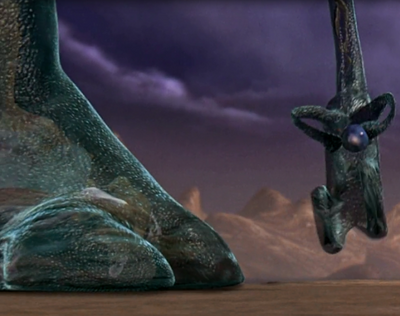 Summary
Marble Alien is the hypotetical name given to the mysterious and extremely large alien who only appears in the final scene of Men in Black, since it's real name is unknown. When the camera zooms out it is shown playing with some marbles, which are actually entire universes.
Not much is know about this alien, due to the fact that he has mere seconds of screen-time. The alien, which has a greenish gelatinous appearance and four digits on each hand, is seen playing with some of the marbles before packing them on a bag.
Powers and Stats
Tier: 3-A
Name: Unknown real name, Is often refered as "Marble Alien," "Extra-Galactic Alien" or just "The Alien", but none of those names are official.
Origin: Men in Black
Gender: Unknown
Age: Unknown
Classification: Giant alien
Powers and Abilities: Mostly unknown, Superhuman Physical Characteristics, Can throw universes like they were marbles
Attack Potency: Universe Level (Can throw universes like they were small marbles, which is confirmed the the movie's script)
Speed: Massively FTL+ attack speed (Can throw universes at 51 Quintillion times the speed of light)
Lifting Strength: Universal (Casually lifts multiple universes with just one "hand")
Striking Strength: Universal (Throws univeres around like they were marbles)
Durability: Universe Level (The crash between two universes doesn't seem to affect him at all)
Stamina: Extremelly high (Can lift entire universes and throw them like they were marbles)
Range: Universal (He is far bigger than the universe)
Standard Equipment: A bag full of universes
Intelligence: Unknown, but seems to be at least sentient. Smart enough to play with marbles and put them on a bag after the game ends
Weaknesses: Mostly unknown, due to his extreme lack of screen time.
Note: Proof that those marbles are universes:
"

EXT. NEW YORK CITY BLOCK - DAY

The LTD is just one of many cars in a jam-packed Manhattan city block.

FROM UP IN THE CLOUDS

Manhattan itself is just part of a much larger urban and suburban sprawl.

FROM THE STRATOSPHERE

The east coast of the United States is just part of a much larger land mass.

FROM THE EOSPHERE

North America is just a small portion of the planet Earth.

FROM SPACE

Earth is just a tiny ball in our solar system.

FROM THE MIDDLE OF THE MILKY WAY

Our solar system is just a few blips of light in a vast star field.

FROM OUTSIDE OUR GALAXY

The Milky Way is just a creamy spiral amid innumerable other creamy spirals.

FROM THE OUTER REACHES OF THE UNIVERSE

There seems to be an edge to what we see, a curved border that seems to close in on things around the perimeters, until everything that exists seems to be contained in one tiny ball --

-- which is actually a marble resting on a strange-looking patch of red dirt.

An ALIEN HAND reaches down and flicks the marble, sending it skittering and bouncing across the dirt, where it CLICKS into a dozen other big blue

balls just like it.

— "Men in Black" script

"
Note 2:
Even though the alien lifts multiple universes at once, they seems to share the same space-time continuum, so, this feat does not put the alien at
Multi-Universe Level
, it only puts it at a extremelly high end of
Universe Level
.
Gallery
Others
Notable Victories:
Notable Losses:
Inconclusive Matches:
Ad blocker interference detected!
Wikia is a free-to-use site that makes money from advertising. We have a modified experience for viewers using ad blockers

Wikia is not accessible if you've made further modifications. Remove the custom ad blocker rule(s) and the page will load as expected.